Creating a Default Locale Info will allow the location information to be set. This is designed for users outside of the United States. Without a locale object the User Group will default to English United States. Setting the locale information will determine how Crash Magic displays data to users. Setting this information will drive how date, time and month fields are displayed in reports created within Crash Magic. If Locale Info is not created or selected Crash Magic will default to the settings of the server.
To create a Locale Info ensure the .shared user created is selected in the admin tree, and click on the Locale
Info button

.
Name: The name of the Locale Info that will be used. If not already named changed the name to Default.
Load settings from LCID: Will load the location information from the location selected in the list below.
The list displayed on the panel contains location information based on Language and region. Select the language and region that Crash Magic will be used. Then click the Load Settings from LCID button. Click OK when the settings have been loaded.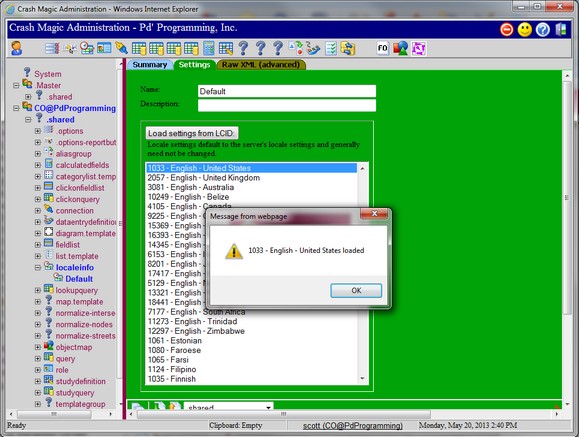 In this image English - United States has been selected